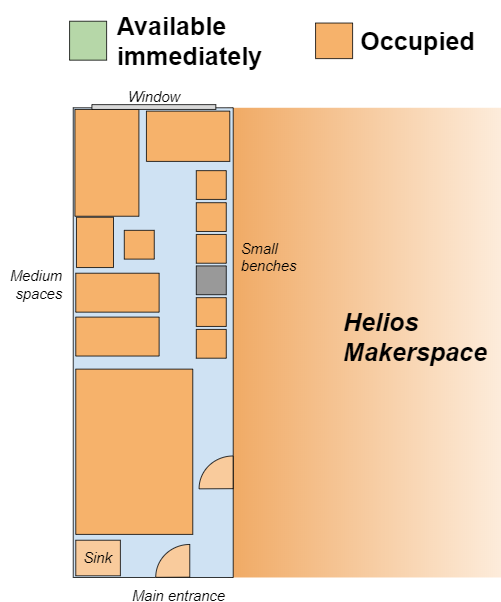 Studio space // Espaces Studio
We are sold out! All our spaces have been occupied for now. You can subscribe to our mailing list to hear more about our space and get notified when there is an opening.
Nous sommes complets! Tous nos espaces sont occupés pour l'instant. Vous pouvez vous inscrire à notre liste de diffusion pour en savoir plus sur notre espace et être averti en cas d'ouverture.
We have a options available for individuals, groups or communities to rent space from us. Each space has a 120V circuit.
Nous avons des options disponibles pour que les individus, groupes ou communautés louent des locaux chez nous. Chaque espace a un circuit 120V.
The application form is bilingual / La formulaire d'application est bilingue
Pricing / Prix
Single bench / Un banc de travail

20-25 sq ft. (5x5 ft.)

150$ per month / par mois

One 24/7 pass to Helios / Un passe à 24/7 à Helios

Medium spaces / moyen espaces

60 - 70 sq ft. (6x11 ft.)

300$ per month / par mois

One 24/7 pass to Helios / Un passe à 24/7 à Helios

Large spaces / grand espaces

Can be a combination of small spaces, up to 300 square feet. / Peut être une combinaison de petits espaces, jusqu'à 300 pieds carrés.

Rates are between 3-4$ per sq ft, and can include multiple passes to Helios. / Les tarifs varient entre 3 et 4 $ le pi2 et peuvent inclure plusieurs passes vers Helios.
Space arrangements and pricing are negotiable, and we love to support communities that are happy to share their tools/resources/expertise with the Helios community.
All 24/7 Helios passes are provided only after approval from the Helios Council and volunteers. A probation period may be required.
Les arrangements et les prix des espaces sont négociables et nous aimons aider les communautés qui sont heureuses de partager leurs outils / ressources / leur expertise avec la communauté Helios.
Tous les laissez-passer Helios 24/ 7 sont fournis uniquement après approbation du conseil d'Helios et des volontaires. Une période de probation peut être nécessaire.